Today's Featured Sites
Additional Websites
Christmas Trees & More
Learn all about Christmas trees, as well as a listing of Christmas tree farms in Illinois, Indiana, Wisconsin and Michigan.
Selecting Trees for Your Home
Find the right tree for your home landscape at Selecting Trees for Your Home.
Illinois Master Gardeners
Master Gardeners are a group of volunteers trained by University of Illinois Extension educators to provide a network of gardening programs and horticultural activities to educate the public and enhance life in their communities.
Successful Container Gardens
A guide for choosing a container, selecting soil mixes, choosing and combining plants, fertilizing, watering and grooming basics.
Watch Your Garden Grow
Your guide to choosing, growing, preparing and storing common vegetables.
Ornamental Grasses
Learn how to select the right ornamental grasses for your landscape.
Our Rose Garden
Find out how to grow and care for roses in Our Rose Garden.
Selecting Shrubs for Your Home
Find the right shrub for your home landscape at Selecting Shrubs for Your Home.
Stepping Stones to Perennial Garden Design
Learn how to design and maintain a perennial garden that will delight you with seasonal beauty year after year.
Turf Diseases & Insects
Review the major insects and diseases of turf.
Common Vegetable Problems
Learn about common vegetable insect pests and diseases.
Gardener's Corner
Four seasons of gardening information.
Annuals Evaluation Garden
Trials of annuals in a full-sun location for landscape applications
Wildflowers
A directory of more than 140 different Illinois wildflowers
Focus on Plant Problems
Is disease affecting your plants and trees? Learn more at this website.
My First Garden
Learn how to plan, nurture and enjoy the benefits of a beautiful flower or vegetable garden.
Taste of Gardening
Here's a great resource for learning the basics of gardening.
Gardening with Perennials
Gardening with Perennials will tell you how to plant and care for a garden that will bloom year after year.
Garden Calendar
A helpful monthly guide to know what to do in your garden.
Backyard Fruits
Backyard Fruits gives the basics of growing fruit in the home garden.
Groundcovers to Know and Use
Everything you ever wanted to know about groundcovers including a directory of 35 different groundcovers.
Strawberries & More
Your guide to growing strawberries, u-pick strawberry farms, strawberry nutrition, and selection & care.
Gardener's Corner Podcast
Gardening Tips and Techniques from University of Illinois Extension
Soil Testing
Need to test your soil? Here's what you need to know.
Tropical Punch
Learn how to use tropical plants as focal points and accents.
Illinois Tree Selection
Buying a tree is a major investment. Here's help in choosing the best tree for your location.
Gardening with Annuals
Find out how annual flowers can brighten your garden.
Beyond Impatiens and Petunias
Find out about plants that offer color and interest to some of the most extreme gardening situations.
Lawn FAQs
Here's answers to our most frequently asked questions.
Water Gardening
Learn about aquatic plant selection and cultivation as well as container water gardening.
Harvesting Vegetables
Learn about harvesting several common types of vegetables.
Horticulture Newsletter
Notes from the Garden - Horticulture Newsletter by Hnderson, Knox, McDonough and Warren Counties
Distance Diagnostics
A website to help people diagnose and identify plant and pest problems.
Green Side Up Podcast
Green Side Up is a weekly radio gardening program produced by WDCB (College of DuPage) and University of Illinois Extension.
Hort Corner
An extensive website about plants, home gardening, insects, trees and shrubs.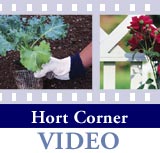 Hort Corner Video
Watch the Extension experts.
Manure Central
A clearninghouse for resources about the production and management of livestock manure.
Manure Share
Manure Share is a manure exchange program that brings gardeners and landscapers searching for organic materials for use in composting or field applications in contact with livestock owners who have excess manure.
Master Gardener Links
An extensive collection of websites to augment Master Gardener training.
Apples & More
Visit Apples & More to learn about U-pick apple orchards, apple nutrition, varieties & selection, and fun activities for children.
Manzanas y Más
Todo acerca de las Manzanas en Manzanas y Más.
Plantas para Interiores
Descubra la planta de interiores ideal para su casa.
Pumpkins & More
You can learn about U-pick pumpkin farms, pumpkin nutrition, varieties & selection, and fun activities for children.
Winter Storm Resource Center
Links to the information you need to cope with severe winter weather.